Why shopping from Chinese sites?
Nowadays, many friends from all over the world buy Chinese items from online stores such a Taobao.com,
Tmall.com, 1688.com and so on. You are always struggling with choosing the best one. It is known that
Taobao is the biggest Chinese online marketplace in the world, owned and operated by Alibaba Group.
It is also called the "Ebay of China" where millions of items are selling there. Taobao is often referred to
as "the Chinese eBay". Basically, it's a marketplace for sellers to post stuff for sale. You can even buy
high quality replica\counterfeit things at very low prices.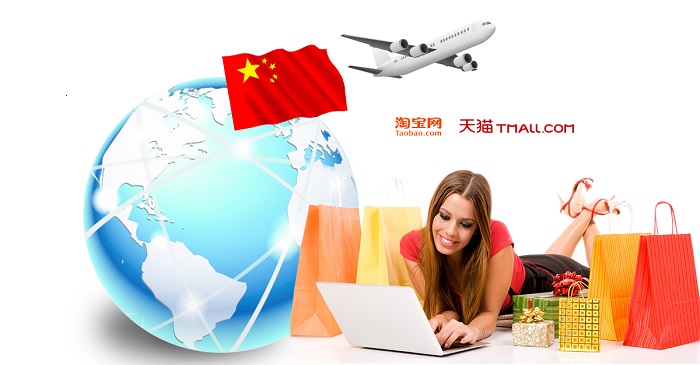 What's the agent?
Plain and simple, an agent is someone who will act as a proxy for you. You pay them, they buy the item. When they get it, you pay them the shipping cos, as expected, they ship it to you. Agents charge a fee, which is how they make
money. But even with the agent fee, the final total generally ends up being much less anyway.

It is very important to choose a good shopping agent. You need to think about the shipping methods,
payment way and customer service which is very important. Our company named YOYBUY is a professional
Chinese shopping agent with 10 years' experience.
Why choose YOYBUY?
1.Free Repackage Service;
2.Free Package Consolidation Service;
3.Free Storage Up To 90 Days;
4.Both English and Russia customer service
How to search items on Taobao?
Translate the Taobao page from Chinese to English would be very helpful.
One of the major difficulty you are facing to shop on taobao is the Chinese language. In order to solve
this obstacle, you need the Google Chrome to get the single page or the whole website translated into
your own language.
This browser enables instant webpage translation into English, a prerequisite for comfortable Taobao.com shopping.
(Unless, of course, you are fluent in reading Chinese.)
This method is far preferable to individual-word translating because you get the big picture. Sure, some of the
text may look weird or seem poorly translated, but it's sufficient to allow you to search items you like.
Here is the screenshot of language translation sign at the right top of your search bar.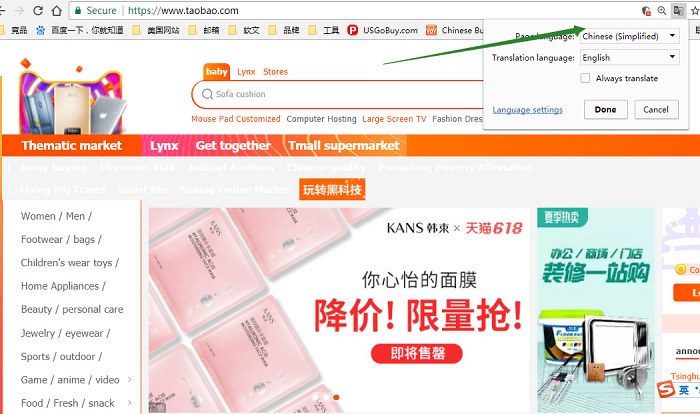 How to purchase taobao items through YOYBUY?
Step 1: Choose items you like on taobao and copy the link on the search bar of YOYBUY


Step 2: Click the "Buy Now" button, the products information is displayed here, please choose the size and color
if needed before click the "Add to Cart" button.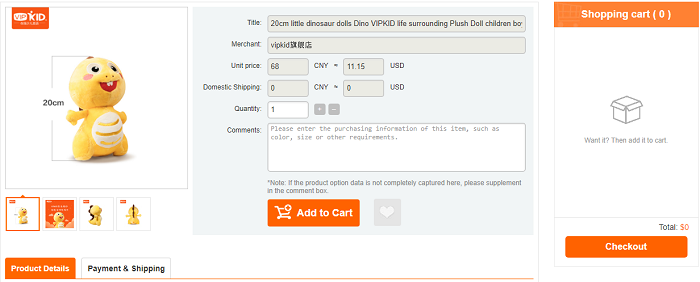 Step 3:click the "check out" button to make the payment.

Step 4: Your item(s) will be purchased by YOYBUY professional purchasing team. Parcel will be inspected after
arriving at YOYBUY warehouse.


Step 5: Select arrived items to submit the delivery and pay for the shipping cost.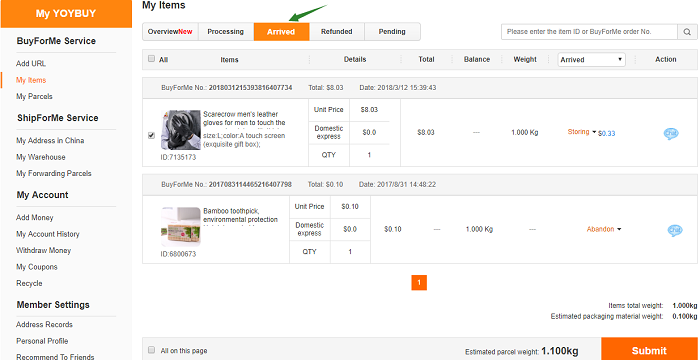 Step 6: Parcel will be delivered to your house.

Also here is a video for to understand YOYBUY service better.
Click here to register as YOYBUY member to get $10 coupon.